Tools for churches
Use these pre-designed displays and inserts to help promote Seek God For The City in your city or congregation. The promo kit is an easy way to download many tools at once. You can also scroll down to download individual files. There is no charge for these tools.
Promo Kit
Get many of the "Tools for churches" in one download.
Download Promo Kit (11.4 MB ZIP)
Includes:
PowerPoint Slides (editable)
Bulletin Inserts (editable)
Tabletop Signs for $1, $2, or $3 suggested donations – English and Spanish (editable)
Images of the cover – web and printable (small sizes)
Does not include:
Poster (scroll down this page to get the poster)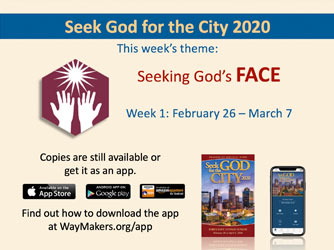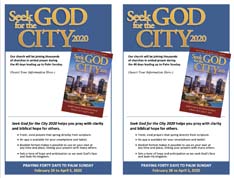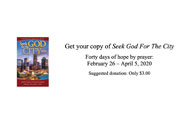 PowerPoint Slides
Designed for church announcements, to be projected on large screens above the stage. Invite your congregation to get a booklet or download the app. Give them a weekly reminder that you are praying and what topic is coming up. These files are editable so that you can let your church know where to pick up a booklet.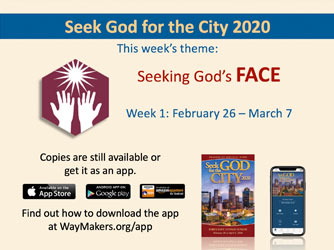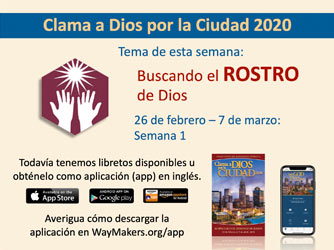 Bulletin Inserts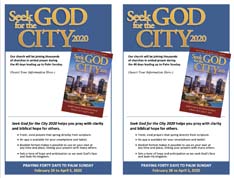 Designed to be printed or photocopied and distributed to the congregation. These documents are editable, so you can tell your church where to pick up a copy of Seek God for the City, how much the suggested donation is, etc. There are two per sheet on 8-1/2 x 11 paper.
Poster
A poster-size version of the cover that you can print locally in color.
(Many churches have produced excellent posters for only a few dollars by making an enlarged photocopy of the front cover using a local Kinko's or other photocopy shop.)
Table-top Signs for Suggesting Donations
Signs designed to be folded in half like a tent, and stand up on a table. These documents are editable, so you can suggest any donation amount. One important note: People use what they value and they value what they pay for. By encouraging people to offer a donation of one to three dollars for a copy, you'll find that they will participate more fully and your costs will usually be more than covered.
English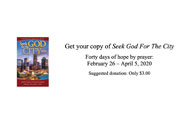 Color Signs
Black and White Signs
Spanish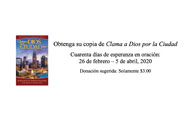 Color Signs
Black and White Signs
Images of the Cover of Seek God for the City
Graphics ready to be printed in newsletters, church bulletins and flyers; posted on websites; e-mailed, etc.
English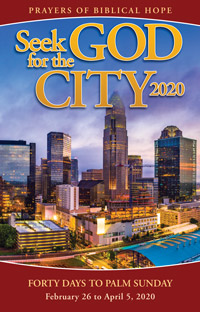 Print: for use in newsletters, bulletins, etc. (300 dpi)
Screen: for use on websites (72 dpi)
Spanish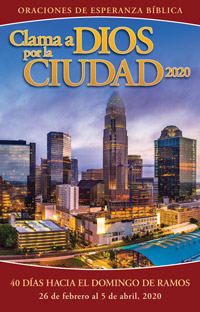 Print: for use in newsletters, bulletins, etc. (300 dpi)
Screen: for use on websites (72 dpi)