Get the app: Use Seek God anywhere, anytime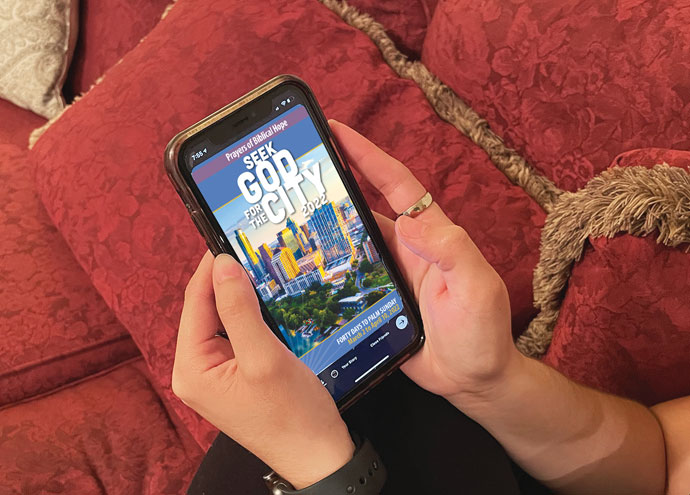 The Seek God 2022 app contains all the material of the printed booklet — and more! It's available for Apple, Android and Kindle Fire phones and tablets.
Pray the same great prayers on the go, at work or in your neighborhood. Many people love using the app along with the printed booklet. The app gives you great features (such as reminder alerts, videos, different font sizes, links to social media and search tools) that will help you pray in practical ways.
The app follows the same dates, March 2 through April 10, 2022. The app gives you ways to guide your prayers before or beyond the 40 days—any day of the year.
Download it for Apple devices using iOS on the App Store. Just 99¢.
Download it for Android on Google Play. Just $1.99.
For Kindle Fire get it on the Amazon Appstore for Kindle Fire. Just $1.99.
Reviews from users:
"I love this app. I always have it with me so it fits into my day to pray when and where was best for me."
"I was amazed how the videos really got my heart going for people in other countries."
"We enlarged the font on our tablet screen so the whole family could read the prayers together."
"Awesome app!!! Loved the country guides – made prayer for other nations exciting."
"I like that I can mark my favorites and easily go back to them. Prayers are worth praying more than once."
"Helps you pray for your community with great insight."

Special features:
Increase font size for easy reading.
Change easily to "night mode" with white on black letters.
Set reminders at the times and days that you choose.
Mark your favorite prayers to refer to them again.
Search for any word, country, or scripture.
Prayerwalk your neighborhood as you pray from your device.
Find great prayer info about any country from Operation World with internet connection.
Experience the marvelous short videos on each country presented by Prayercast with an internet connection.
After the 40 days, choose any prayer or have one randomly selected for you.