Grow your hope in God's great promises.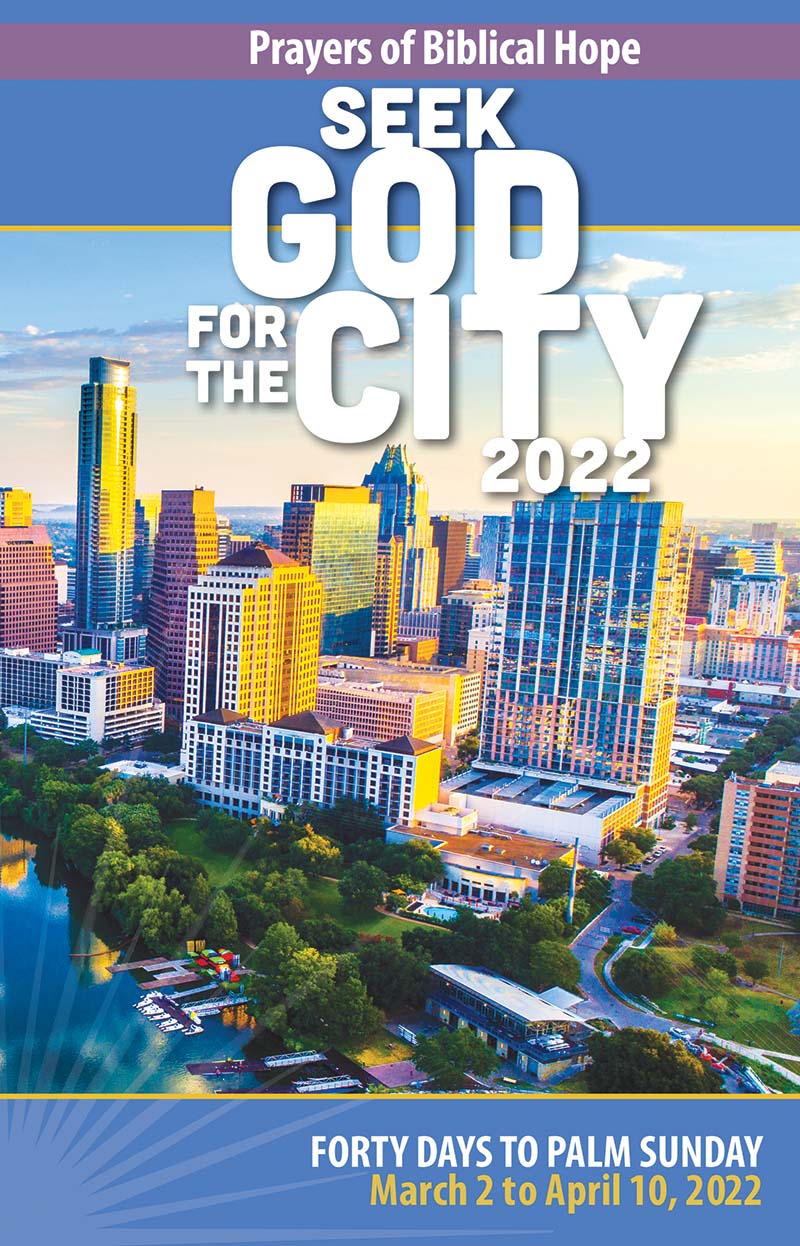 There will be no 2023 Seek God for the City prayer guides. 2022 was our final publication.
Seek God for the City is designed to mobilize many to pray with united, sustained vision for people of your community. The daily prayers are all new and different from last year's prayer guide.
It's hard to pray beyond our own problems, especially in difficult times. But since God does great things in the midst of troubled times, now is actually the best time to pray beyond ourselves with expansive prayers of solid hope. We will either find God-given courage to pray great things, or we will find that our hope, along with our love, will grow cold.
This edition of Seek God for the City is designed to re-ignite desires for Christ that may have gone dormant, so that our hope in Christ and His kingdom will rise again. These are prayers you don't want to pray alone. Invite your whole congregation to pray along with you. Even better, think about joining your prayers with a few other churches in your community.
The forty days to Palm Sunday makes an ideal time to venture into a season of sustained, hope-filled prayer. Dated March 2 – April 10, 2022.
We are happy to offer a complimentary review copy to leaders in recognized positions of pastoral or prayer leadership for a limited time. Call us now at 800-264-5214 or 512-419-7729.
The app makes it possible to help many to keep praying in the midst of busy lifestyles. Available in January 2022 as an app for your smartphone or tablet.
---
Some helpful features of Seek God For The City 2022
Strengthens what you are already doing. No complicated program to organize or meetings to schedule.
Unites prayer throughout your church. An attractive, easy-to-use tool that can help unite prayers between many churches throughout an entire community.
Lifts prayer from private or trivial matters. Helps your people learn to pray for what matters most by directing attention toward what God is doing in the lives of people throughout your community.
Builds the confidence of everyday believers to help them pray with clarity, authority and relevance as they learn to pray in keeping with scripture. Involves everyone in your church family, not just a "prayerful elite."
Opens a great way to pray toward Easter. For those of liturgical streams, it augments the Lenten season with a marvelous blend of repentance and intercessory hope. Those of other streams find that it lifts attention toward Christ's visitation at Palm Sunday. The calendar concludes on Palm Sunday, leaving everyone prepared for Easter week without crowding the schedule with extra activity.
Additional resources for 2022 to help you mobilize others to pray will be available soon.