The prayer app: Seek God for the City 2014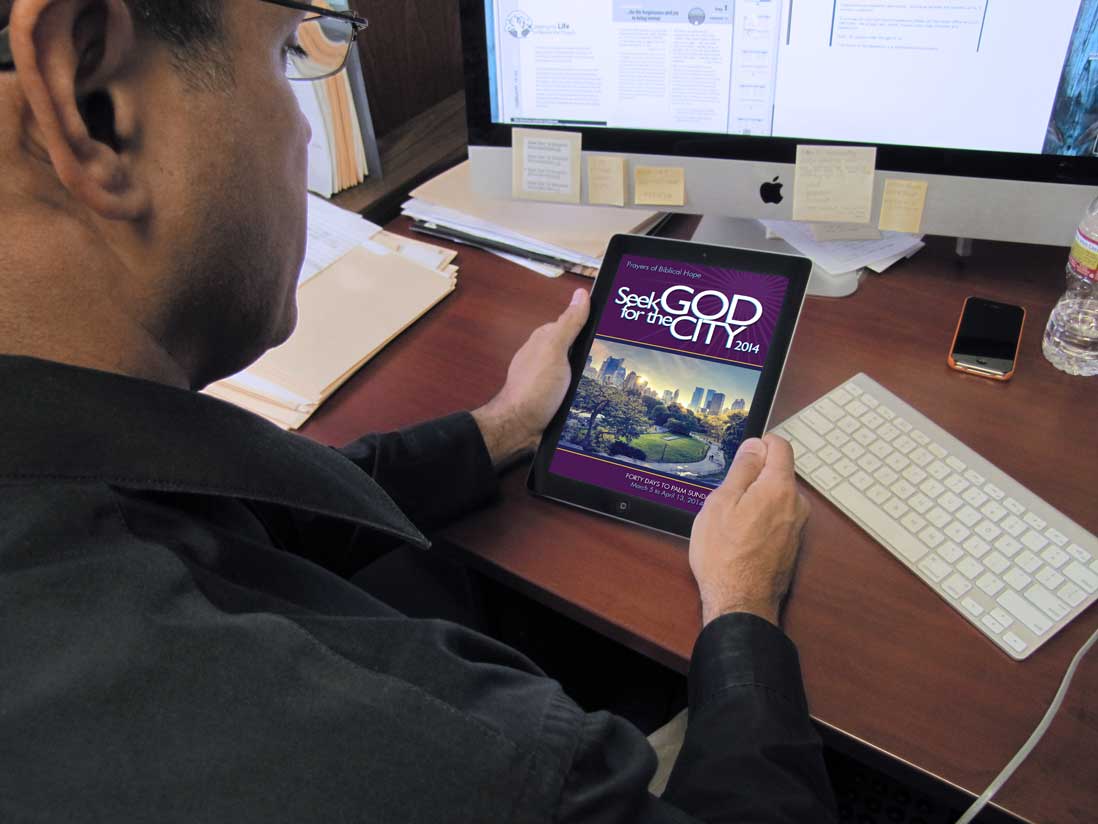 The Seek God for the City 2014 companion app will be available in app format for iPhone, iPad and Android smartphones and tablets. Even if you don't use a smartphone, invite your congregation to download the prayer guide to have these prayers of biblical hope at their fingertips on the go.
Download it for iOS on the App Store, for Android on Google Play, or for Kindle Fire at the Amazon Appstore. Just $0.99 cents.
The companion app for Seek God for the City 2014
Seek God 2014 is a companion app that helps you pray for others in your community during the forty days to Palm Sunday, March 5 to April 13, 2014. You will find daily prayers with biblical clarity and vivid, crisp language. Each of the 40 days gives you ideas to pray for others with confidence and hope. Join many thousands of Christians from different traditions that will be praying these prayers too. Pray God's highest hopes for your city's deepest needs.
Dated March 5 to April 13, 2014 for 40 days of united prayer. Useful any day of the year.
User reviews from last year:
"A very helpful launching point for my own prayers"
"I love having the 40-day prayer guide so easily accessible"
"Loved the app. It was so helpful because I always had it with me and could integrate it into my day."
"Awesome app!!!!! Loved the country guides – made prayer for other nations very exciting."

Special Features:
Set reminders to help you remember to pray at the times and days that you choose.
Personalize the app by marking your favorite prayers.
Search for a prayer with a specific word, phrase, or scripture.
Prayerwalk your neighborhood as you pray from your device.
Pray for countries of the world by name. If your device connects to the internet, read country-specific prayer needs on the Operation world website. For many countries, you'll find short videos that help you pray.
Increase font size
Easily jump to "Today's Prayer" during the 40 days.
Choose a prayer or have one randomly selected for you after the 40 days.
Have the same prayers as the printed version at your fingertips when you're on the go.
Download it today
Just $0.99 cents. Search for the app by name, "Seek God for the City 2014" or use a link below.

App Store for iOS
For iPhone, iPad and iPod Touch, find the app in the App Store.

Google Play for Android
For Android smartphones and tablets, get it on Google Play.

Amazon Appstore for Kindle Fire
For Kindle Fire tablets, get it on the Amazon Appstore.